Remember Monday, when I told you about the amazing book re-gifting program that takes place for soon to be parents?  In a rush of excitement after learning of the pregnancy you run off and look to buy every book imaginable?  Stop, wait, step away from Amazon, because someone is about to GIVE them all to you!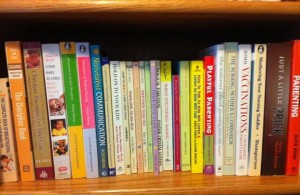 Today at work, minding my own business I looked across the room to see a new mom carrying a bag through the room only to sit down next to someone who had done an amazing job keeping quite the secret.  I watched as she pulled book, after book, after book out of the bag, continuing the age old ritual of passing along the almighty written word of pregnancy expectations.
I'm actually quite surprised these books are still being printed, I just figured it's the same several dozen that get passed around dogeared, highlighted, and coaster ringed from expectant mother to another.  Nonetheless, trust me when you feel the urge to go shopping for that pregnancy book, there's a good chance someone is waiting to give it to you once they know.
Comments
comments