The champagne is about to be uncorked, the confetti and balloons to fall from the rafters, and Auld Lang Syne is about to sung around the world.
So…have you booked your baby sitter for New Year's Eve yet?
If not, you better get callin' because according to a new Urban Sitter survey, many parents book their babysitter up to a month in advance. Yeah, we're a little behind too but there are still options available. So you better start your search now.
Once you've got your sitter booked, the epic question remains. How much do you pay? Is the regular rate fair or should you add a little extra? Do you stay out past midnight or let the sitter go home early?
According to Urban Sitter, more than half of parents will pay 1.5x their normal rate to lock in their preferred sitter.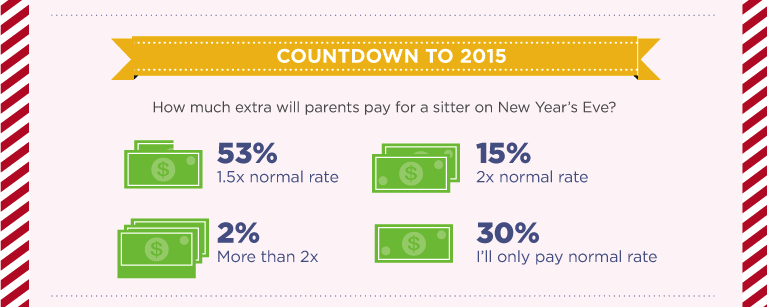 Which means you're paying a hefty amount before you even get out the door. Though for most parents it's worth it to spend one night with friends and celebrate with other adults. Although - let's be honest - we all know the conversation at some point will turn back to the kids.
See how you stack up with others by checking out the results of this holiday survey via Urban Sitter and then leave your comments below on how much you pay your sitter.

You can subscribe and download the "Dads Who Diaper" podcasts on iTunes here.
Follow us on Twitter: @DadsWhoDiaper
"Like" us on Facebook: Facebook.com/dadswhodiaper

Comments
comments